This travel guide to Crete can help you plan the perfect visit to this ancient island and ensure you save money in the process
Top 5 Things to See and Do in Crete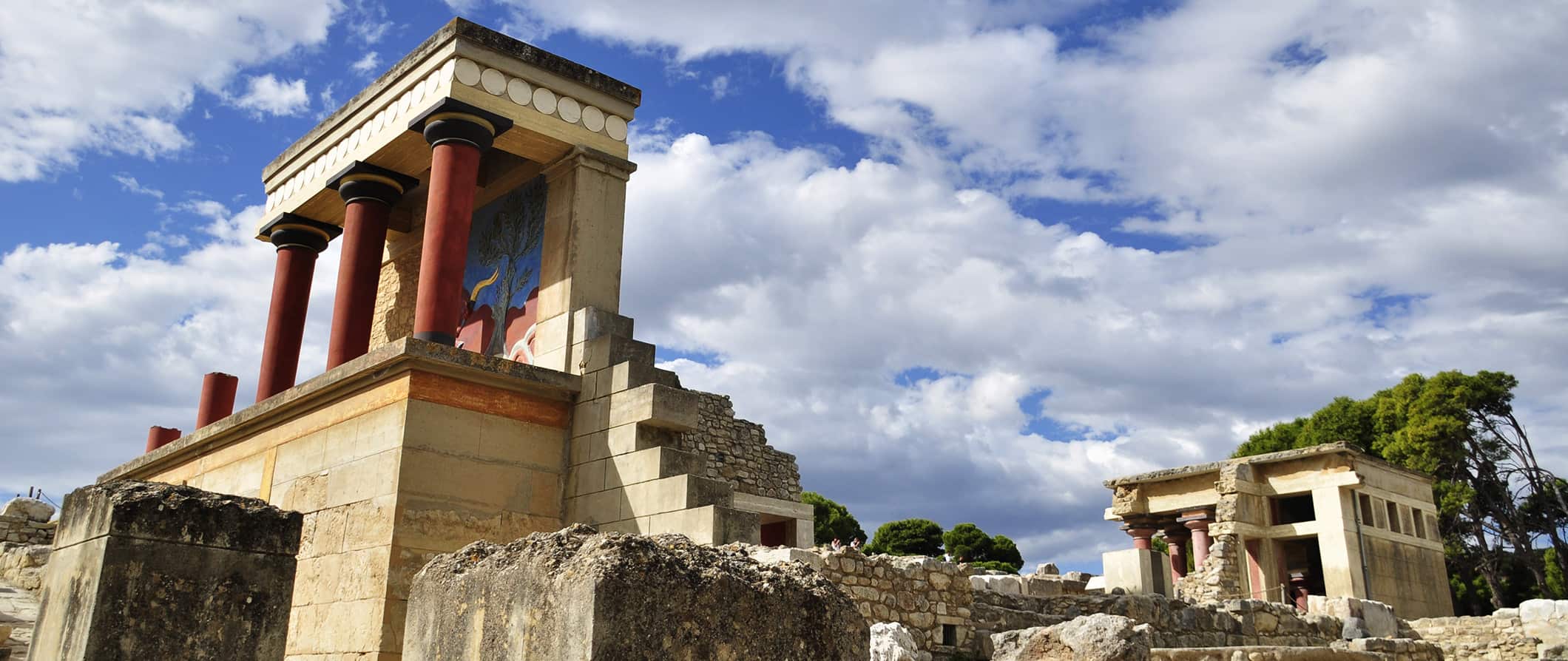 1. Visit the Archaeological Museum of Heraklion
This is Greece's second-largest archaeological museum. The collection here spans over 5,500 years of history. The museum houses elaborate pottery, jewelry, sarcophagi, colorful frescoes from Knossos, and more. Its Minoan collection is the most extensive in the world. Overall, the museum is incredibly detailed and should not be missed. Tickets are 12 EUR in the summer and 6 EUR in the winter.
2. Relax on the Pink Beach
Elafonisi Beach is located in the southwest corner of Crete, about 75 kilometers (47 miles) from Chania. The waters are crystal clear and the beach has rose-colored sand (hence the name). It is super popular in the summer (so get here early), with rentable sunbeds and umbrellas lining the beach. There are plenty of secluded coves nearby if you want to get away from the crowds. The water is shallow enough that you can walk out to the small island of Elafonisi, which has a tiny lighthouse and unobstructed views of the Mediterranean.
3. Visit Knossos
Knossos was the ancient capital of the Minoan empire and its Bronze Age ruins are some of the oldest in Greece (it's considered the oldest city in Europe). The area has been inhabited since at least 7000 BCE, flourishing between the 19th-14th centuries BCE. You need a few hours here to roam the rebuilt palaces, courtyards, private apartments, baths, villas, tombs, and more. Admission is 15 EUR (free admission on the first Sunday of every month during the winter).
4. Hike Samaria Gorge
Samaria Gorge is one of Greece's National Parks and a UNESCO World Biosphere Reserve. The main hike is a 16-kilometer (10-mile) trek that offers wonderful views of the White Mountains and finishes at the beach town of Agia Roumeli. Keep in mind that this is a fairly long, rocky trek that takes around 5-7 hours to complete. Because of the length of the trek, you aren't allowed to start it after around 2pm (you can still do part of it, but you will have to turn around at a certain point). But for nature lovers, it's well worth it, and you can grab a beer at one of the seaside tavernas when finished. Try to avoid mid-summer as temps can reach up to 40°C (104°F) and there's no shade. The park is open May-October and admission is 5 EUR.
Other Things to See and Do in Crete
1. Take a trip to Spinalonga Island
Located in northeastern Crete, the Venetians built a large fortress here in 1579 to protect Mirabello Bay and Elounda Bay from the Ottomans. The defenses held strong until 1715 when the Ottomans sieged the island. When the Ottomans left in the late 19th century, the island became a leper colony and remained that way for decades. Visitors can now take a boat there and walk a short trail that takes you through the ruined church, a leper disinfection room, a hospital, and a cemetery. Admission is 8 EUR and it's open from April-October.
2. Explore Koules Fortress
Located in Heraklion, Koules Fortress was built in the 13th century when Crete was under Venetian rule. It was designed to protect the city from invasion and at its height housed a mill, bakery, prison, barracks, and more. Nowadays, you can walk through the tunnels and visit the various rooms. There are a lot of informative exhibits explaining the history of the castle and area too. Admission is 4 EUR (closed on Tuesdays).
3. Visit Aptera
This ancient 12th-century monastery is located just 13 kilometers (8 miles) outside of Chania. During your visit, you can admire the restored monastery as well as the remains of the original fortified tower, a temple from the 5th century BCE, a city gate, monastic walls, Roman cisterns and baths, and an amphitheater. There was also a Turkish fortress built here in 1872 that overlooks Souda Bay. Admission is 4 EUR.
4. See the Lassithi Plateau
The Lassithi Plateau in eastern Crete stands 900 meters (2,952 feet) above sea level. To get there, you have to drive up winding mountain roads overlooking the Dikti mountain range (which is dotted with white windmills). While here, you can visit Psychro, home to the Dikteon Cave that, according to Greek mythology, is the birthplace of Zeus and the place where he was hidden as an infant to be protected from his father. It's 6 EUR to visit the cave, or you can combine it with a full-day ATV experience across the plateau for 75 EUR.
5. Wander Rethymnon
Located in northwestern Crete, this city is the third-largest in Crete (after Heraklion and Chania). Rethymnon is famous for its spectacular 11-kilometer (7-mile) long beach as well as its Venetian old town, port, and fortress. I love getting lost in the streets here, exploring the 16th-century fortress, and eating all the tasty food the city has to offer. It has a phenomenal food scene!
6. Tour the Historical Museum of Crete
If you're interested in the more modern history of Crete (from the early Christian period to the mid-20th century), this museum in Heraklion is awesome. It's small, but there's a lot to see, including two stunning paintings by El Greco: The Baptism of Christ and View of Mt. Sinai and the Monastery of St. Catherine. There's also a giant model of the city from the Venetian era (around 1650 CE) before its Turkish occupation, and a re-creation of author Nikos Kazantzakis's study where he wrote Zorba the Greek (a popular novel-turned-film written in 1946). Admission is 5 EUR.
7. Hit Balos Beach
Balos Beach in the northwest corner of Crete offers a nice mix of white and pink sand, as well as a lagoon that is a warm place for a swim. It's a peaceful place to hang out and soak up the sun, though it does get very crowded in the summer as it is one of the most popular beaches on Crete. You can get here by car (and then hike down to the beach), ferry (though it doesn't leave a lot of time at the beach), or private boat. There are no places to buy food here so bring your own.
8. Wander Chrissi Island
Located 15 kilometers (9 miles) off the coast of southeastern Crete, this Caribbean-looking island is a protected nature reserve with a unique cedar forest covering most of the island. Its deep blue waters and white sand beach make it a popular spot to spend the day, snorkeling, swimming, and lounging around. Ferries leave from the mainland in the morning and come back starting around 3pm in the afternoon. The island is completely uninhabited, meaning that there are no services, so bring everything you need (though you can buy food and drinks on the ferries if you need to). The round-trip ferry costs around 25 EUR.
9. Visit Plakias
Located 30 kilometers (19 miles) south of Rethymno in the southern part of the island, this little town is popular with older tourists looking for a quiet time. I don't really love the beach here (too rocky for me) but there are some phenomenal sunsets and a few nearby hikes that make it worth a visit. It's a good base to visit nearby beaches (a boat taxi hops between a bunch of them).
10 Relax at Preveli Beach
Located close to Plakias, this beach is famous for its palm trees and swimmable river. It starts a few kilometers up and runs through a gorge before emptying out into the sea. Legend says the palm trees were brought here by pirates. It's one of the nicer beaches and the river is super nice to swim in. You can sometimes hike through the gorge depending on trail and river conditions. Be sure to check beforehand. It's a hugely popular day-trip destination so expect crowds.
11. Visit a Cretan olive oil farm 
Dive deep into the island's olive oil tradition by visiting a farm and taking a tour to learn more about this iconic staple. The aptly named Cretan Olive Oil Farm and The Olive Farm in Chania both offer tours of the groves and production facilities, which also include tastings. Both farms also offer a variety of other classes and workshops, including wine tastings, cheese making, and other cooking classes. Tours start at 45